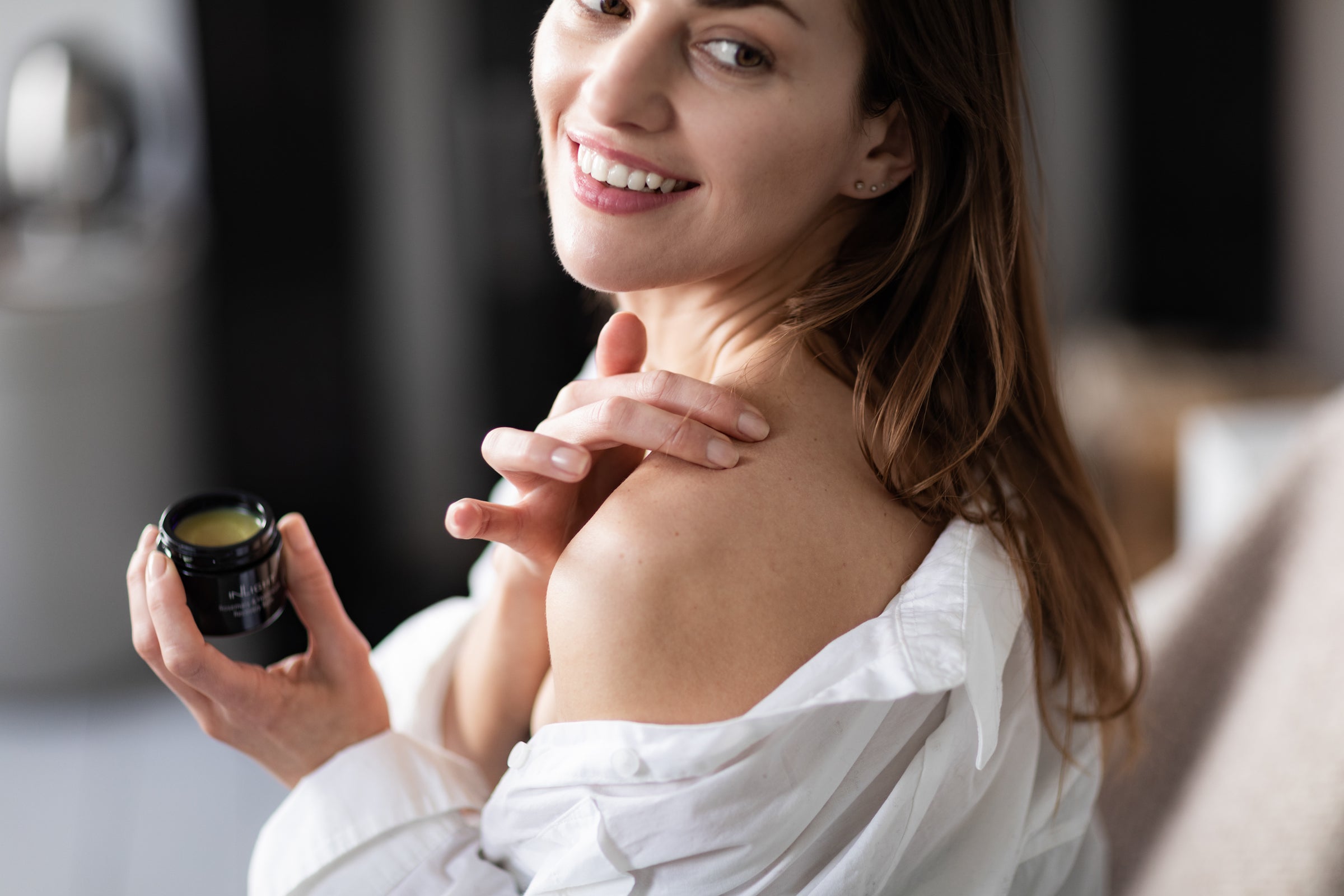 Videos - How To Use
Find out how best to use Inlight Beauty balms & oils with our 'how to' videos. Includes step-by-step guides and rituals.
Super-Food Face Mask
Super-Food Face Mask
Our multi award-winning uplifting and rejuvenating Super-food Facemask is bursting with chlorophyll to detoxify the skin. The highly concentrated formula means that only a little is needed to go a long way.
Chocolate Face Mask
Chocolate Face Mask
Ever wondered how to apply a facemask properly? Follow our step by step 'how to' video to find out how to best use our nourishing Chocolate Face Mask.
Gua Sha
Gua Sha
Our step by step Gua Sha ritual video demonstrated by holistic therapist Naz. Combining your Gua Sha ritual with Inlight oil-based products will ensure a smooth glide whilst helping to deeply absorb the organic nutrients of your chosen product.
Flower Feast Facial Steam
Flower Feast Facial Steam
We show you how to do a facial steam using Inlight Beauty's Flower Feast. A blossoming, radiance-giving blend of organic flowers chosen to work together to calm, soothe and hydrate your skin.
Line Softener
Line Softener
Easy to apply with great results, Inlight Line Softener Intesive anti-ageing balm will stimulate collagen production and soften facial lines.
Clinical trial shows remarkable reduction of lines in just 28 days of daily use.
Inlight Beauty Daily Ritual
Inlight Beauty Daily Ritual
A 'How To' video on how to cleanse, tone and moisturise with Inlight Beauty balms and oils.
'Cleansing, toning and moisturising twice a day is the key for healthy, beautiful skin' acclaims Dr Spiezia, Inlight formulator.
Foot Balm
Foot Balm
Naturopath & yoga teacher Cristine from OlisYoga demonstrates how to give a foot massage using Inlight Foot Balm, to help relieve stress, tension and offer a deeply relaxing experience. It will help to aid sleep as well!
Face Oil
Face Oil
Inlight Face Oil is a light and protective elixir for daily moisturising with rounded, addictive notes of vanilla and rose. Quickly absorbed into the skin, only a few drops are needed for a healthy, radiant glow.
Deep Moisture Balm
Deep Moisture Balm
Our Deep Moisture balm is fantastic on drier and/or mature skin in need of extra TLC. Formulated to intensively repair the skin, it offers invaluable antioxidants in the form of Vitamins A & E and essential fatty acids and leaves skin firm and velvety soft.
Night Balm
Night Balm
This ideal Night Balm treatment is a blend of highly nourishing oils such as macadamia & jojoba as well as those rich in antioxidants Vitamins E, A, D, F. Great on tired and dull skin in need of extra TLC, to replenish and deeply moisturise as you sleep.
Under Eye Revive
Under Eye Revive
A great short demonstration on how to minimise puffiness and brighten the look of dark circles with Inlight Under Eye revive. This de-congesting and concentrated eye balm has been formulated by Dr Mariano Spiezia, to safely target the delicate under-eye area.