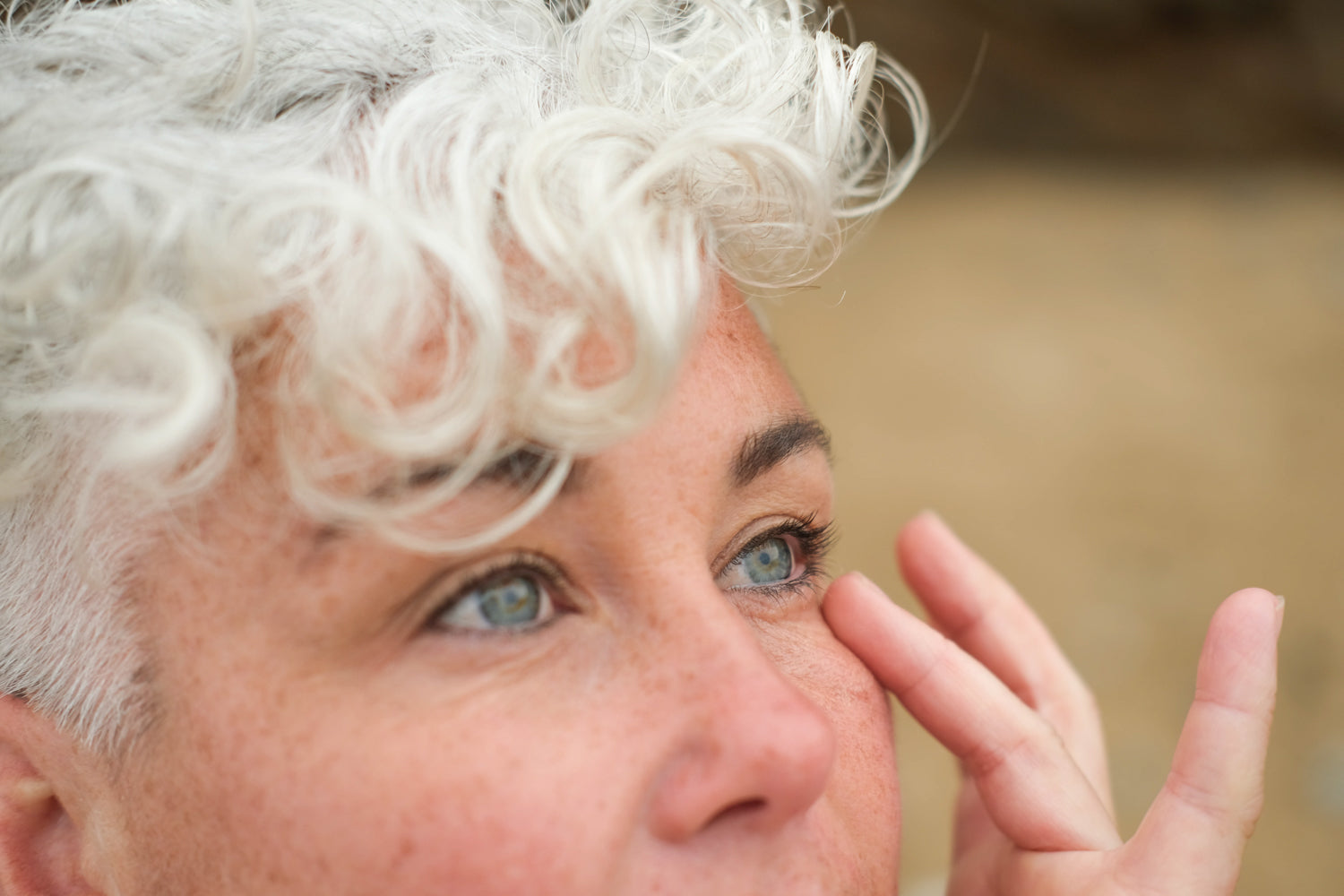 Menopause
Helping you look after your skin and hair during this transition.
The onset of menopause marks the beginning of a transition that manifests physically, mentally and emotionally.
This natural cycle usually begins around the age of 50, although some women experience it as early on as their 40s. The start of menopause is widely regarded as occurring at least 1 one year after a woman's menstrual cycle ends. Some of the most common symptoms are mood changes, hot flashes, a slower metabolism and fatigue. Many women also report visible changes in the condition and texture of their skin and hair. Understanding why the changes in your body are happening, how to manage symptoms and how to usher yourself into this new phase of life, can go a long way in making sure the transition is smooth, and even enlightening.
Menopause is a natural transition
Menopause is a natural transition
Dr Mariano Spiezia, medical doctor, herbalist, skin expert and the founder of Inlight Beauty explains that: "during menopause, changes to the skin and hair naturally occur. This is due to the nature of the skin and its sensitivity to the hormones produced and released by the ovaries: estrogens, androgens and progesterone. The skin is rich in nerve endings and contains a high number of receptors for estrogens: this is why it literally 'withers', when these hormones are missing. However the menopause is a natural transition not an illness, you could say it's the window that opens onto a glorious new phase of maturity. If accompanied, this new 'beautiful you' holds truly great self-discovery."
How to get your glow back
One of the most common symptoms experienced by women at various stages in their menopausal journey, is a loss of skin plumpness or firmness. Some women find that their skin has lost its 'oomph' or is looking more saggy. This is primarily caused by the rapid loss of collagen.
You could think of collagen as one of the skin's main building blocks. Typically, the body starts naturally losing collagen in your mid-20s, but the process speeds up within the first few years of menopause. Some of the most common bugbears that women need to tackle are dark circles or swelling under the eyes, larger pores, the formation of jowels and lines running from the tip of the nose down to the corners of the mouth.
The skin can lose 2% of collagen per year, in the 10-15 years after menopause starts
As Dr Spiezia adds: "The lack of estrogen in menopause impacts on all the components of the skin reducing the ability of the stratum corneum to maintain a good hydration, and thinning the skin's layers. The skin can lose 2% of collagen per year, in the 10-15 years after menopause starts. The content of elastic fibers is reduced and there is a drop in both hyaluronic acid and water, as well as vascularization. That is why wrinkles worsen and furrows sink."
But, with the right skincare routine and organic – hence wholesome - beauty products, you can make sure menopause doesn't steal your smile or dull your youthful energy.
The answer? Moisture. Moisture. Moisture.
You'll be amazed at how your body responds to some good, conscientious hydration. And when better to give your skin the moisture boost it needs, than while you sleep? For that, we recommend the Inlight Night Balm. Its organic formulation, enriched with highly nourishing oils and soothing botanical extracts certainly pack a punch – the kind that works while you're catching up on some well-deserved rest.
Your skin repairs and rejuvenates overnight, so ideally, when menopause comes knocking, you want to be prepared with a product that aids healing, decreases inflammation and restores hydration, all in one go. To use it, simply and regularly apply a thin layer of the balm to your skin before bed, massaging it into the face and décolleté with small, circular movements. Feeling like a bit of a pamper? You can use our Amethyst Gua Sha to smooth it on and get your daily dose of positive vibrations.
Night Balm
Nutrient-rich replenishing balm to decrease inflammation, and deeply moisturise whilst your skin is at its most relaxed. Enhanced by marigold, lavender, rose and neroli.
Shop Night Balm
Gua Sha
A luxurious amethyst massage tool that hugs the curves of your face to help increase blood circulation and lymphatic drainage, encouraging skin health.
Shop Gua Sha
Keep your pH balance in check
Apart from the loss of collagen, menopause has also been found to bring about a significant pH change in the composition of the skin. Typically, menopause causes the skin's pH to increase. For many women, the most common side effect of this change is heightened skin sensitivity. You may find that products you've used before now cause redness, dryness or irritation and that your tolerance for artificial scents and colouring agents may be affected.
Sebaceous glands shrink following menopause; and less oil is secreted. Skin inevitably dries out and needs hydrating more. It is important to replenish it regularly with oils rich in the natural chemicals present on the skin (which are lost during this time) together with targeted botanical extracts, high in antioxidants, as these can slow down the ageing process keeping the skin healthy.
"Look for argan, rose hip and evening primrose oils combined with barley grass, bilberry, spirulina, carrot extracts, to name a few," says Dr Spiezia.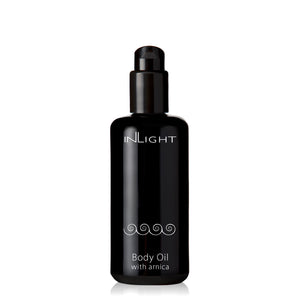 Fortunately, those naturally derived ingredients are some of our favourites – you'll find them all in the Inlight Beauty skincare range. We've got one particular product in mind. It's the Inlight Body Oil with Arnica, a deeply warming, soothing body oil with a complex of plants and astringent herb extracts to relax, rejuvenate and promote suppleness and elasticity and leave your skin with a lustrous, silky sheen. To get the best results, apply the oil after a warm bath or shower to prepare the skin and let the moisture sink in.
Shop Body Oil
Our solution for a lifetime of good hair days
Next up, we wanted to tell you more about menopause and how it may affect the condition of your hair. For many women, the onset of menopause results in the thinning of hair, breakage or hair loss. The answer? We'll say it again: moisture, moisture, moisture.
When it comes to maintaining your tresses and keeping your hair in good condition, hydration can be an absolute game-changer. We like to think of it as a secret potion for hair that boosts its elasticity and strength, making it less prone to breakage. It's also your ticket to soft, touchable locks that feel as luxurious as they look. Moisture also helps tame frizz and flyaways, giving you that polished, put-together look effortlessly.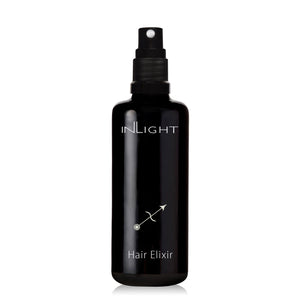 For that, we have one solution – the Inlight Beauty Hair Elixir. In it you'll find powerful nourishers such as argan, avocado, jojoba and rosa rubiginosa oils, and health-giving botanical extracts of rosemary, nettle, horsetail and burdock. Our in-house extracts, produced through a slow method of infusion, help to keep the vitality of every ingredient intact.
Shop Hair Elixir
Inlight Beauty skincare range for menopause
Looking for more? You'll find it in this range of skincare by Inlight Beauty, curated especially to tackle the niggles that come with menopausal skin. We've crafted these gems with love and care to address the unique needs of menopausal skin, whether it's tackling dryness, maintaining that radiant glow, or embracing your newfound wisdom lines. Our products are packed with nourishing ingredients and a sprinkle of self-love to help you feel your absolute best. So, let's celebrate this beautiful transition together and make your skin feel as vibrant as your spirit!
Get ready for the next chapter
Remember, menopause may be difficult for many reasons, but it can also be an extraordinarily life-changing transition and a time of reconnection for yourself and the other women in your life. You're never alone in this beautiful transition – it's a shared experience that unites all women, and there's immense power in opening up about it.
Start the conversation with a cup of tea or a walk in the park, and share your journey. It can be incredibly liberating and might just be the nudge someone else needs to open up too. We're all in different chapters of this book, and together, we can provide each other with support, wisdom, and laughter.
We'd love to connect with you on social media. Give us a follow on Facebook, Instagram and now Tik Tok.
You can also sign up for beauty news, exclusive offers and tips from our experts by subscribing to our newsletter. P.S. First-time subscribers get 10% off your first order.