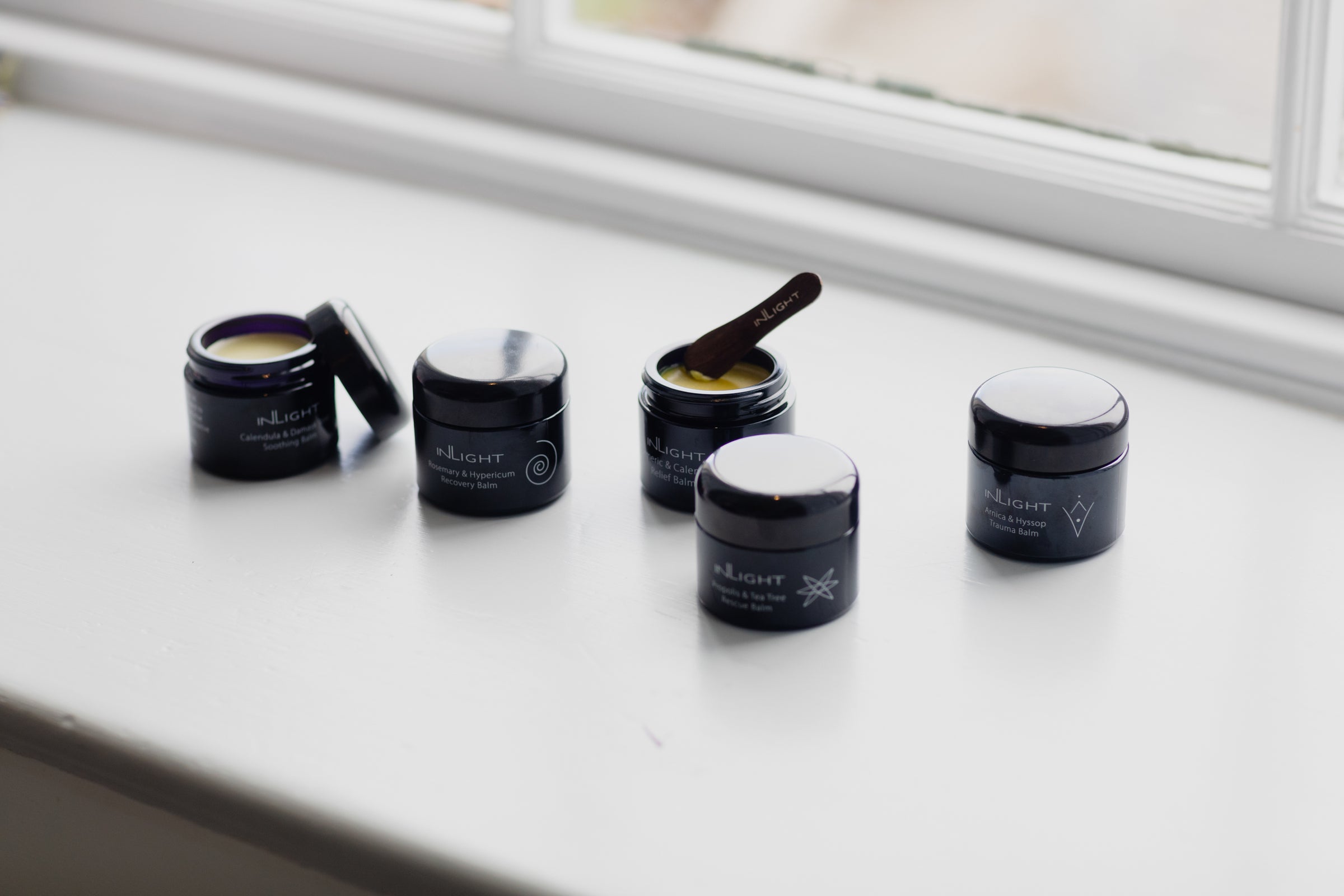 Here to help
Our fantastic, knowledgeable team is here to offer guidance and advice, as well as answer any questions you may have.
Below our Frequently Asked Questions - should you need further assistance, please get in touch directly via our chat box, e-mailing info@inlightbeauty.co.uk or calling
01326 281114
We believe that organic ingredients are more powerful and brimming with vital energy. No synthetic compounds are used at any stage of production, from the growing of ingredients to the final creation of our products (this includes being GM free).
This is an uncompromising feature of Inlight Beauty products, and rare in the beauty industry. Inlight Beauty products and production process are certified 100% organic by Soil Association/ Cosmos Organic, thus giving total confidence and guarantee to the customer.
Our skin is impermeable, meaning water-based creams and serums quickly evaporate providing no real skin hydration. Oils are nourishing in their own right, and the oils in Inlight Beauty products are close in composition to the skin's own sebum so are easily absorbed without clogging the pores.
By avoiding water, no synthetic preservatives are required to inhibit the growth of bacteria, resulting in a purer, more natural product.
You can find more about waterless beauty here.

Inlight products are very concentrated, meaning less is more. Very little is all that you need for good effect, use up to a pearl size of product using the spatula included for balms.
The oils and serums vary, you'll find a guide to the appropriate amount of product inside every Inlight box.
The products should not leave your skin greasy. Always listen to your skin and adjust your routine accordingly. The base oils used in all Inlight products are close in composition to your own sebum - this means they will be absorbed easily.
Have a look at our HOW TO Videos
Our best recommendations for oily skin are Face Cleanser and Floral Tonic for their cleansing, nourishing, and astringent action.
However, all Inlight products are suitable for all skin types -
Using oils will actually help balance the skin sebum and avoid the overproduction of oil often caused as a result of over scrubbing and cleansing.

Being close in composition to the skin's own sebum, Inlight products are easily absorbed and keep pores clear. You will notice your skin becoming less oily over time, and that combination skin appears more uniform.

Everybody's skin produces oily substances from its sebaceous glands in order to protect itself from viral, bacterial or fungal infections and to keep itself well hydrated with this protective 'barrier' which slows down the evaporation of water from the skin.
Inlight beauty's Night Balm is an excellent overnight moisturiser, and the Deep Moisture Balm aims to balance dryness during the day.
However, all Inlight products are suitable for all skin types -
Inlight beauty products aim to nourish the skin and restore its natural balance, so the skin will only absorb as much as it needs. Dry skin may also need a greater quantity of product than normal or oily skin.
'Listen' to your skin and adjust accordingly.
We have a Dry & Dull skin collection for further recommendations.
Inlight products are suitable for all skin types - this is because the formulas aim to nourish the skin and restore its natural balance, meaning skin will only absorb as much as it needs.
We recommend always starting with our Trio of Cleanser, Face Oil, and Floral Tonic as these have been formulated to work together, leaving the skin PH balanced.
I
We have some great products for mature skin. Our Deep Moisture Balm offers rich hydration for everyday moisturisation. Our Line Softener Intensive has been formulated to soften lines and stimulate collagen production. In clinical trials we have found a statistically significant decrease in wrinkle appearance.
Head over to out Pro-age & Mature Collection for more inspiration.
New born baby skin is incredibly delicate and precious. We have a baby range specifically designed for your little one's skin.
Dr Spiezia explains:  ' While in the womb babies' skin is covered with a white sticky substance (Vernix caseosa). This natural biofilm protects and moisturises the baby's skin
in the final trimester and in the first week or so of life. Although nurturing touches can of course benefit babies from birth, a structural massage with any substance (even if 100% organic), in my opinion, should ideally wait until 4-6 weeks from birth. This is simply because for the first few weeks, an infant's
skin is still developing, it is thinner, more fragile, and therefore can be easily damaged.'
For more advice on pregnancy and post partum products, read here.
Yes. It would be hard to find products purer than Inlight Beauty. We've received fantastic feedback in using Inlight Beauty products whilst undergoing treatments such as chemotherapy, which can cause your skin to become very dry, thin and fragile.
As our products are 100% organic and oil-based, they naturally provide great nourishment and give back essential skin nutrients which can be lost during treatment. We however advise you to always consult with your doctor as every cancer treatment is individual.
Our friend Nicki details her cancer journey and Inlight saviours HERE
The Under Eye Revive is a balm, packed with decongesting ingredients to help de-puff, plump, and brighten dark circles. The Eye Serum aims to reduce the appearance of fine lines in the delicate eye area and contours. It is a potent serum texture, only a very small amount is needed.
Inlight Beauty products have been formulated by Dr Mariano Spiezia, a medical doctor, herbalist and homoeopath. Our products are designed with sensitive skin, rosacea, acne and other common skin disorders in mind. In the case of more serious skin problems, we recommend that other, non-organic, products are not used alongside Inlight Beauty products and that you seek a doctor's advice.
If you are aware of any skin sensitivity or sensitivity to a particular ingredient please check the ingredient list carefully. It is recommended that you conduct a 24hr patch test on an area of clean skin (on the underarm or inside of the elbow) before applying the product more widely.
Yes! Face Cleanser and Floral Tonic have anti-inflammatory and antiseptic properties which can help calm and soothe acne-prone skin. You can use the Propolis & Tea Tree Balm topically on spot/pustules.
Using specific oils (such as in our formulas) will actually help balance the skin sebum and avoid the overproduction of oil.
Some people are worried about using coconut oil on acne-prone skin as it can theoretically be comedogenic. We use organic coconut oil (in different percentages) in some of our products, to take advantage of its highly moisturising and antibacterial properties. We blend it with some complementary botanical extracts in a synergic positive action. The results have been great so far including on acne-prone skin.
A sound and effective cleansing and moisturising routine is a key foundation for healthy, balanced skin. Acne and rosacea are inflammatory skin conditions related closely to inner hormone levels. An effective and deep acting cleanser, combined with a calming and soothing moisturiser can help to effectively remove toxins and impurities, keeping pores open and maintaining optimum skin health.
The Floral Tonic is oil-free and has ingredients that sooth, refresh and reduce inflammation. This makes it effective for soothing skin prone to rosacea.
What's in Inlight products?
Organic essential oils carry some amazing properties as well as delightful fragrances and a preservative function. You will find a small percentage of essential oils in most Inlight Beauty products. Please see individual INCI.
All of our products are proudly cruelty free, suitable for vegetarians, and never tested on animals.
All our Oils and Serums are also vegan-friendly.
The balms do contain beeswax - this is 100% organic certified meaning the way it's collected is monitored and not harmful to bees. You can view the vegan range here.
Yes. The gluten in barley grass is found in the seed and we only use barley leaves. If you have a strong sensitivity to gluten, we do advise a patch test on the inside of the elbow which you should monitor for 24 hours.
We have chosen Miron glass for our packaging because it blocks out UV rays which can negatively affect the potency of our products and reduce their shelf life. The jars and bottles are specifically designde to house your Inlight Beauty products in the best way possible, but we would also recommend keeping them at room temperature and away from direct sunlight where possible.
The glass and lids of Inlight products can be cleaned and put in UK household recycling but please check with your local authorities for confirmation.
Glass droppers, pumps and sprays can also be recycled at some UK recycling locations when taken apart.
TIP: Inlight bottles and jars can be re-used as beautiful trinket pots or single stem vases!
Most Inlight products have a shelf-life of 36 months. Please refer to the batch and BB label at the bottom of the product.
We recommend using within 6 months of opening for maximum efficacy, but given the nature of the products, if stored correctly they can be used for much longer than this.
Your balm may change consistency over time especially in hot weather. Please be careful to store your Inlight beauty products away from heat sources and sunlight where possible. If they accidentally melt, they will return to a balm at room temperature and can still be used but the consistency may differ.
We package our orders with cardboard and tissue paper to insulate them so that they are safe from heat whilst in transit to you.