Inlight Neck Firming Serum – the best solution to treating 'tech neck'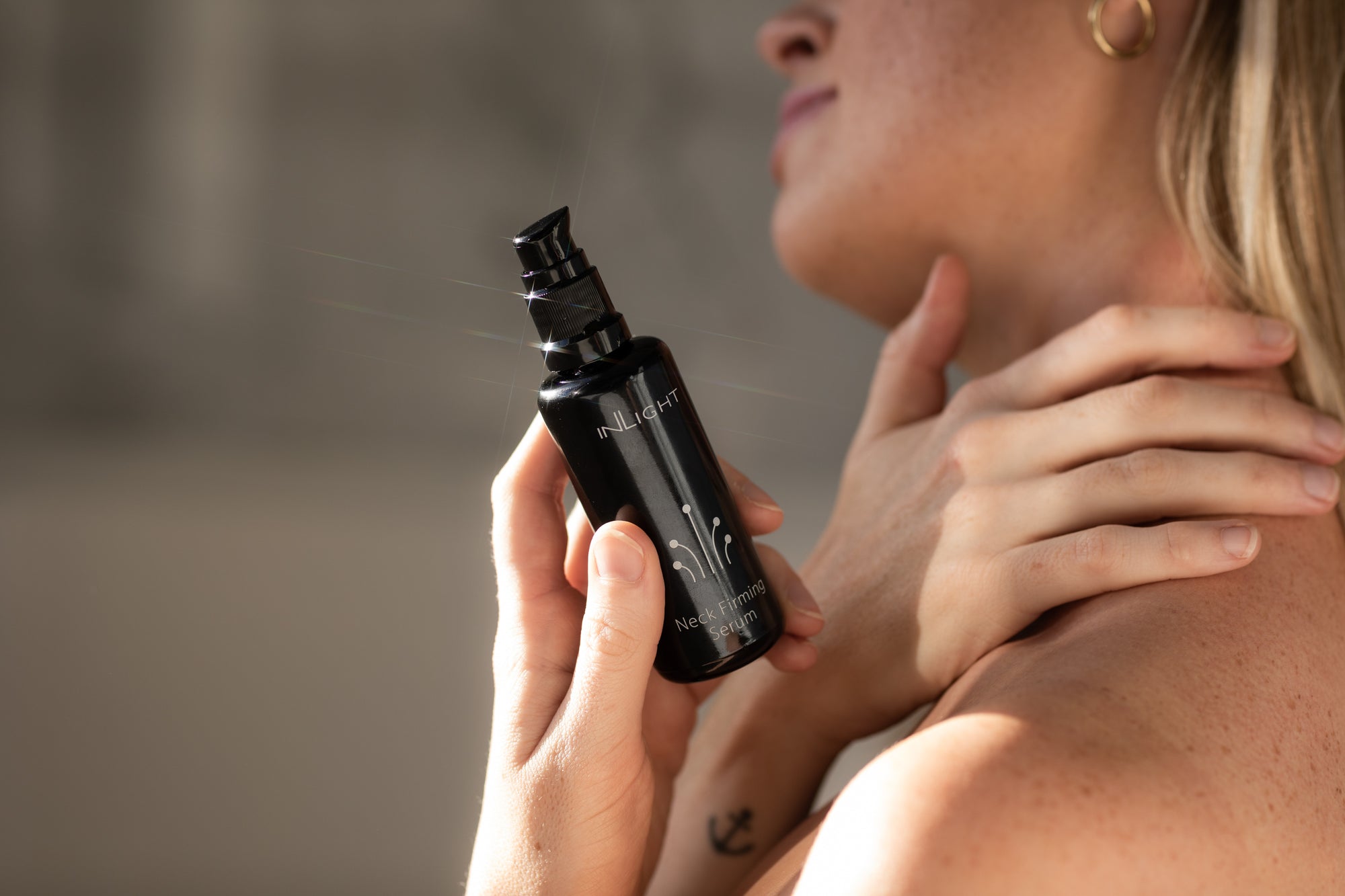 How to combat the effects of 'tech neck' and safeguard your skin against the effects of increasing screen time 
Prior to the onset of the COVID19 pandemic, the amount of time people spent in front of screens was already on the upswing. From smartphones and smart TVs, to laptop screens and PCs, life in the age of digitisation had us transfixed by the all-familiar blue light and the urge to stay connected wherever we are, whatever we're doing. 
Then, along with the turn of the new year in 2020, the pandemic hit and lockdown restrictions catalysed a new era in remote living. Working from home during what many called the "Zoom years" had us spending hour after hour, staring at the computer screen, hunched over, our necks bent in concentration, spurred on by the relentless call to "keep producing, no matter what." 
The way we worked and coexisted with technology changed at breakneck speed – and of course the pun is well intended – because the results of this sudden transition had many running to chiropractors and physios for pain relief from what has become known as 'tech neck.' 
Join us as we explore some natural skincare solutions to tech neck and introduce you to our exciting new serum (keep scrolling).
What is 'tech neck?'
Unfortunately, while the worst of the pandemic has thankfully passed, some of its effects caused by drastic lifestyle changes, have remained. A recent study conducted by pro-consumer data experts, comparitech found that globally, the average person spends almost 7 hours looking at a screen each day for recreational activities, streaming and general browsing. Add the 8 hour remote workday to that figure and most people are spending up to 15 hours of the day in front of a mobile or desktop. Needless to say, our necks are under strain. 
Stiffness, pain, injury, deep lines and even spinal injury are some of the symptoms that have come to characterise what health and medical experts are calling 'tech neck.' 
Why it's important to keep tech neck in check
Tech neck is problematic on two key fronts – the negative impact it has on your skin and the long-term effects it can have on your posture. In the case of the latter, tech neck can lead to a noticeable hunch at the base of the neck as a result of chronic forward-leaning.
The effect on your skin can also be extensive. This is because, as Inlight Beauty founder, Dr Spiezia explains, the skin on the neck has a different composition to the rest of the skin on the body. With fewer sebaceous glands to secrete oil, the dermis (the middle layer of skin) on the neck and décolleté is thinner and therefore more prone to 'creasing. 
Some of the symptoms that tech neck has on the skin can include:
Horizontal neck wrinkles that deepen with time and worsen in areas of the neck that are prone to prolonged flexion
The weakening of the skin's elasticity in the neck and décolleté region
Loss of collagen, which can lead to sagging skin and is aggravated by factors such as sun exposure, ageing, smoking and environmental pollutants
If left untreated, tech neck can also produce the following symptoms as the condition worsens:
Throbbing headaches
Stiffness of the neck (particularly at the back)
Trouble sleeping
Reduced mobility of the neck and shoulders
Tingling or numbness in the arms and hands
Spinal nerve irritation and inflammation
Neck and shoulder spasms
4 simple steps you can take to alleviate tech neck
With a combination of mobility exercises and a regular natural skincare regime that focuses on the entire neck regime as well as the décolleté, the effects of tech neck can be dramatically curbed and prevented from causing long-lasting damage. 
Ready for some easy-to-follow solutions to tech-neck? Try these daily fixes:
Use a foam roller or stress ball to massage the back of your neck
By simply rolling your neck up and down against a wall, with a foam roller positioned against the back region of the neck, you can help reduce the formation of a hump and alleviate neck tension after a prolonged period of screen time. 
Try doing 4 - 5 sets of 10 neck rolls every day. When doing this, remember to keep your back upright and your knees bent squarely over the tips of your toes, which should be facing forwards. 
Do daily chin tucks
We're well aware that there are many reluctant 'chin-tuckers' who dislike the fact that doing these exercises almost always 'pushes out' your double chin. But, if you can withstand some momentary discomfort, the rewards will pay off. 
To do a chin tuck, place 2 fingers at the bottom of your chin and gently pull downwards to tuck your chin. In this position, retract your head as far back as possible to align the back of your spine and hold for 3 - 5 seconds. Relax your neck and repeat. Aim for 3 - 4 sets with 10 repetitions per day. 
Top tip: You can do your daily chin tucks while you're sitting at your desk. Pair this with deep breathing exercises in between tucks and you'll have the beginnings of a good daily meditation practice.
Make Gua Sha your go-to
The ancient practice of Gua Shua, or the use of polished, semi-precious stone tools to massage the facial skin has been known to produce many positive benefits such as increased circulation, pain relief, the reduction of inflammation and even the strengthening of the immune system. When you do your Gua Sha practice, don't forget to show some love to the back and front of your neck, as well as your décolleté or chest area. 
As Dr Spiezia explains: "many aren't aware that the skin on our neck is nearly as delicate as the skin on our eyelids, and unfortunately the neck and décolleté are generally overlooked and neglected. It's time to turn this around."
Got your Gua Sha tool? We've got the perfect natural skincare product to pair it with…
Introducing the newest addition to our renowned skincare collection – the Neck Firming Serum
Dr Spiezia's latest creation, the Inlight Neck Firming Serum, combines a potent array of organic herbal extracts with astringent and antioxidant properties and 'dry' raw oils that help stimulate elastin and collagen to support and help tighten the specific areas of neck and décolleté when used regularly.
And you have to meet the star of the show
We'll let you in on the secret behind the effectiveness of this sumptuous botanical beauty serum – cacay oil. Harvested from cacay trees that grow wildly in the heart of the Amazon jungle, cacay oil is very rich in natural retinol – one of our favourite anti-ageing components. In cacay oil, you'll also find power antioxidant, vitamin E and linoleic acid (vitamin F), which encourages skin cell production and keeps dark spots at bay. 
How to use the Neck Firming Serum
Squeeze 2 - 3 pumps of serum into your hands and gently warm up the product in your hands
With the chin facing upwards and with a stretched neck and spine, gently massage the product into your neck and chest area in upward-sweeping motions.
The serum's absorbs easily into the skin, so it's perfect to use with your gua sha roller or tool for step 3, or simply use your hands to massage the serum in. 
Repeat 3 - 5 times
Top Tip: Finish the ritual by patting downwards from neck to chest to promote lymphatic drainage.
And did we mention?..
The cacay oil used in our neck serum is sustainably harvested, organic and cold-pressed after using an earth-friendly extraction process. Any leftover cacay nut shells are used to make cooking flour, nut milk and fertiliser. 
What to expect from the scent
The combination of oils and active ingredients used to make the Inlight Neck Firming Serum emits a light, nutty scent, combined with subtle notes of juniper (refreshing and invigorating) and cypress (evergreen). On the nose, you can expect a warm, exotic and welcoming scent that's perfect for morning or bedtime skin rituals. 
Want to know more? We'd love to connect with you on social media and learn more about how you're keeping tech neck at bay. Follow us on Facebook, Instagram 
You can also sign up for beauty news, exclusive offers and tips from our experts by subscribing to our newsletter. P.S. First-time subscribers get 10% off your first order. 
---