BACKGROUND & PHILOSOPHY
Dr. Mariano Spiezia
Doctor of medicine, medical herbalist and renowned skin expert, Dr Mariano Spiezia has been dubbed 'the father of the organic beauty movement in the UK'.
Nothing is rushed in nature, and in a world that forces us to always rush, slowness is a key to wellness. BACKGROUND
Dr Spiezia graduated in Medicine and Surgery in Italy in the early 1980s, later working in the emergency department. A passion for 'finding the cause, rather than just cure the effect' sparked early on in his medical career; He went on to graduate in Homeopathy and has since worked on combining orthodox medicine with the extraordinary power of nature.
Pioneer of the first detox centre in the south of Italy in the late 80s; passion creativity and knowledge soon gave birth to the first 100% organic pomades, made by hand, using the same herbs found in his bespoke herbal tinctures.
Formulator and co-founder of Inlight Beauty, Dr Spiezia also practices as a medical herbalist and skin expert at The Walsingham Natural Health Centre in Truro, Cornwall. With a passion for science, alchemy and wellness, Dr Spiezia actively takes part in discussions, research and contributions to both scientific and beauty fields in Italy as well as in the UK.
"Having been trained in Medicine and Surgery as well as in Homeopathy and Clinic Phytotherapy, I've been able to observe the functions of the human body from different angles and, better understand the flow of the energy or so called "Life Force" through the manifestation of signs and symptoms.
In my personal and professional development, a precious step was my close encounter with Dr Alma Rodriguez; the founder of LUIMO (Independent Univeristy of Homeopathic Medicine) and Cemon (Centro di Medicina Omeopatica Napoletana) in Naples, Italy. She was my mentor and professor and someone I still admire to this day. She introduced me to the real, authentic holistic approach to medicine and ill health. Cemon Homeopathics AKA Inlight, was incepted between two families who shared the same vision – to bring health and beauty to the every day, naturally. Dr Rodriguez and her children: Gabriella, Vincenzo and Aurelio, my wife Loredana and I, worked closely together to manifest this vision into what is now a collection of skincare products that are truly wholesome, and work in synergy with our whole selves.'
"Health and science have a beauty within them, the beauty which stems from chemical and physical processes at the basis of life itself; there can be no finer beauty than that of atoms dancing together in the mesmerising harmony of laws which stabilise this planet and which are in constant evolution .... Every symbol on the Inlight products is the visual expression of that unique, vibrational 'dance'."
FATHER OF THE ORGANIC BEAUTY MOVEMENT
Mariano has been considered the father of the organic beauty movement in Britain having worked with the Soil Association to define the first organic beauty standards back in 2001 with his first skincare company. He has been voted 4 times by the beauty industry as one of the top 25 "Who's who in natural beauty".
Mariano possesses a love and profound knowledge and curiosity for the kingdom of plants that makes him a charismatic and compelling innovator. Today he meticulously researches and formulates extraordinary 100% organic skincare elixirs and effective, healing skin balms based on a perfect synergy of chemistry and medical herbalism, with one very important X-factor, and the one ingredient that money cannot buy – a sheer, exuberant delight for life.
Dr Spiezia's ongoing efforts, work and contribution towards a sustainable and positive change in the beauty & wellness industry, was recognised by Positive Luxury in 2020 where he was Shortlisted for the Lifetime Achievement Award.
The Bio Lipophilic Matrix®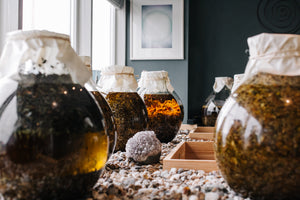 The Bio Lipophilic Matrix®
Every Inlight product features Dr Spiezia's Bio Lipophilic Matrix®- a blend of organic, cold-pressed plant oils carefully nurtured for their high biochemical affinity to the skin.
These super concentrated oils are energized using a patented technique where science meets alchemy to heighten the oils' vital force. Hyperspectral study: The efficacy of our unique production process has been scientifically proven to work, leaving a lasting glow to the skin.
View all