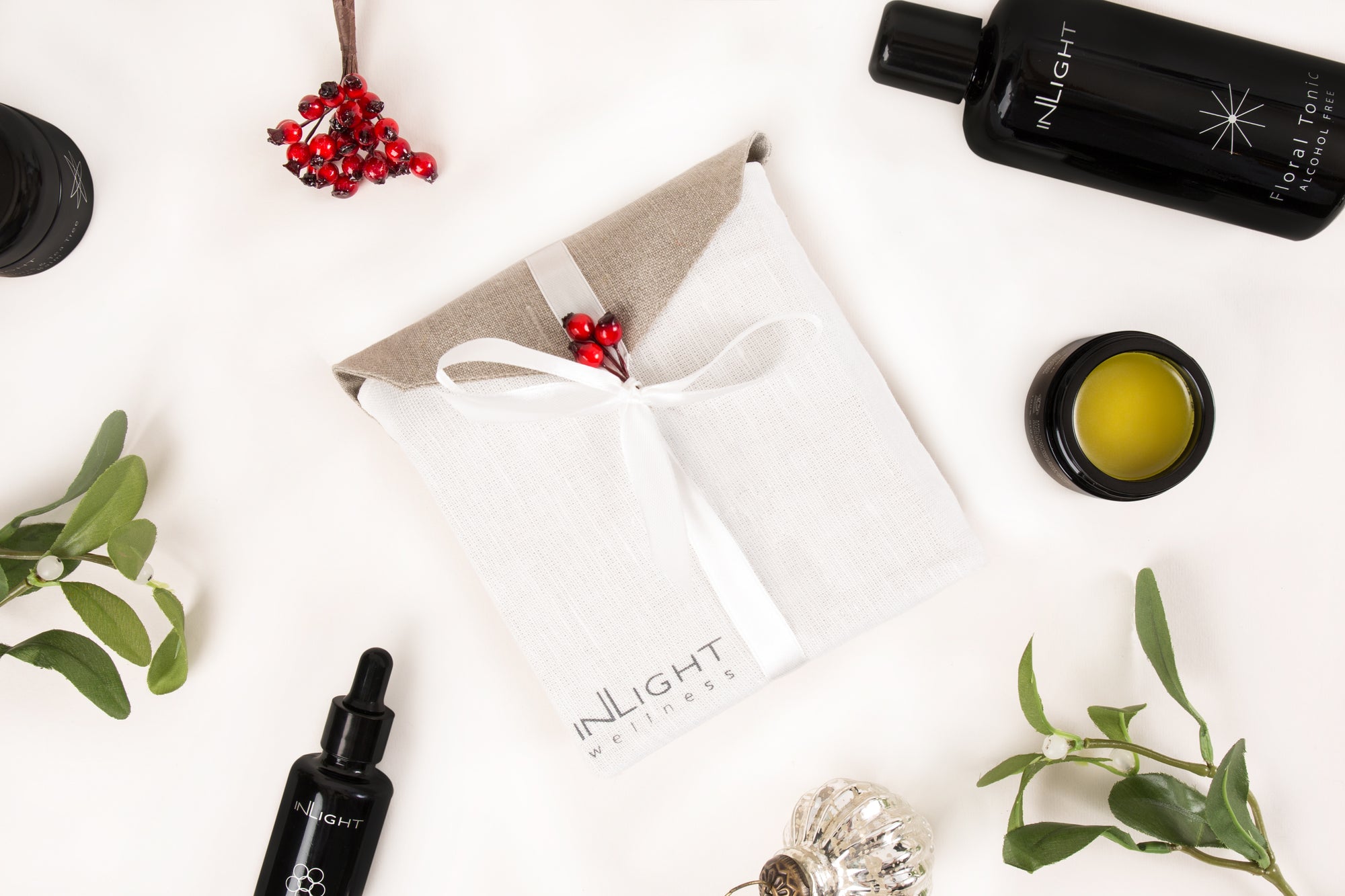 The Inlight Gift Guide
With the festive season approaching, we have put together the ultimate Inlight Gift Guide. From the ideal wellness tea set for the tea connoisseur in your life to the most decadent gift for your chocoholic friend, we have you covered.
Loose tea has so much more flavour that your ordinary tea bags. Steeping loose leaves allows water to flow, infuse and expand, extracting aromas, minerals and vitamins. In many countries drinking tea is a wellness ritual. Our Tea Set will deliver all of the above, something your tea connoisseur will be sure to appreciate. Featuring our award winning Spicy & Warm and Rejuvenate & Glow Herbal fusions, a delightful steel flower spoon; all presented in a luxury, hand sewn linen bag. Find out more on the benefits of loose tea here -
Recently launched after popular demand, this is a must for the jet-setting beauty traveller. Your beauty essentials to cleanse, tone, and pamper on the go, wherever life takes you. Our covetable eco-cotton bag is stylish and practical and lined with a unique piece of well-travelled sail! Sustainable luxury beauty at its best.
Forget the winter blues with our vibrant Flower Feast. Ideal for flower lovers and anyone in need of some 'me time'. The perfect excuse to sit back and take some time to stop, breathe in the power of nature and relax body and mind.
This radiance-giving blend of organic flowers has been chosen to work in synergy to calm, soothe and hydrate your skin. A great stocking filler.
Bringing a spa experience to your home.
This delectable Chocolate Mask is a must for any chocoholic, with notes of chocolate and orange it's the ideal pampering gift this Christmas. Not only is Cacao a 'food for the Gods' but also an amazing food for your skin, a great source of anti-oxidants and Vitamin E.
As per Dr. Spiezia's suggestion, we have paired it with our Floral Tonic to provide a wholesome nourishing and calming treatment for all your senses. Why not add our gift wrap for that wow factor?
Made for each other, these two products have been formulated to work together to leave your skin perfectly balanced. Whether you are an Inlight novice or an addict these are the two essentials you should never go without. Our 100% organic beauty glove will come in handy to remove the cleanser prior to applying the toner.
All beautifully gift wrapped in our new festive box.
A collection of Inlight's top wellness and beauty products to Detox & Revive from the inside out, this comprehensive 4 week programme is bound to be the essential gift for anyone wanting to start 2019 in the best way possible! With a step-to-step guide which includes tips of lifestyle and diet by Dr.Spiezia.
Can't decide? Then our NEW Gift Cards are the perfect solution! FIND OUT MORE
You can also find us featured in Vanity Fair's Best of Beauty Christmas Gift Guide.
Forget Black Friday.
Inlight's mindful Green Week allows you time to browse and re-discover the beauty of Inlight at your own pace.
Spend £100 on your favourite Inlight products between the 22nd and 29th of November and receive a complimentary Total Moisture Bijou Set worth £15.
(No need for a code, we will automatically add it to your order.)
---