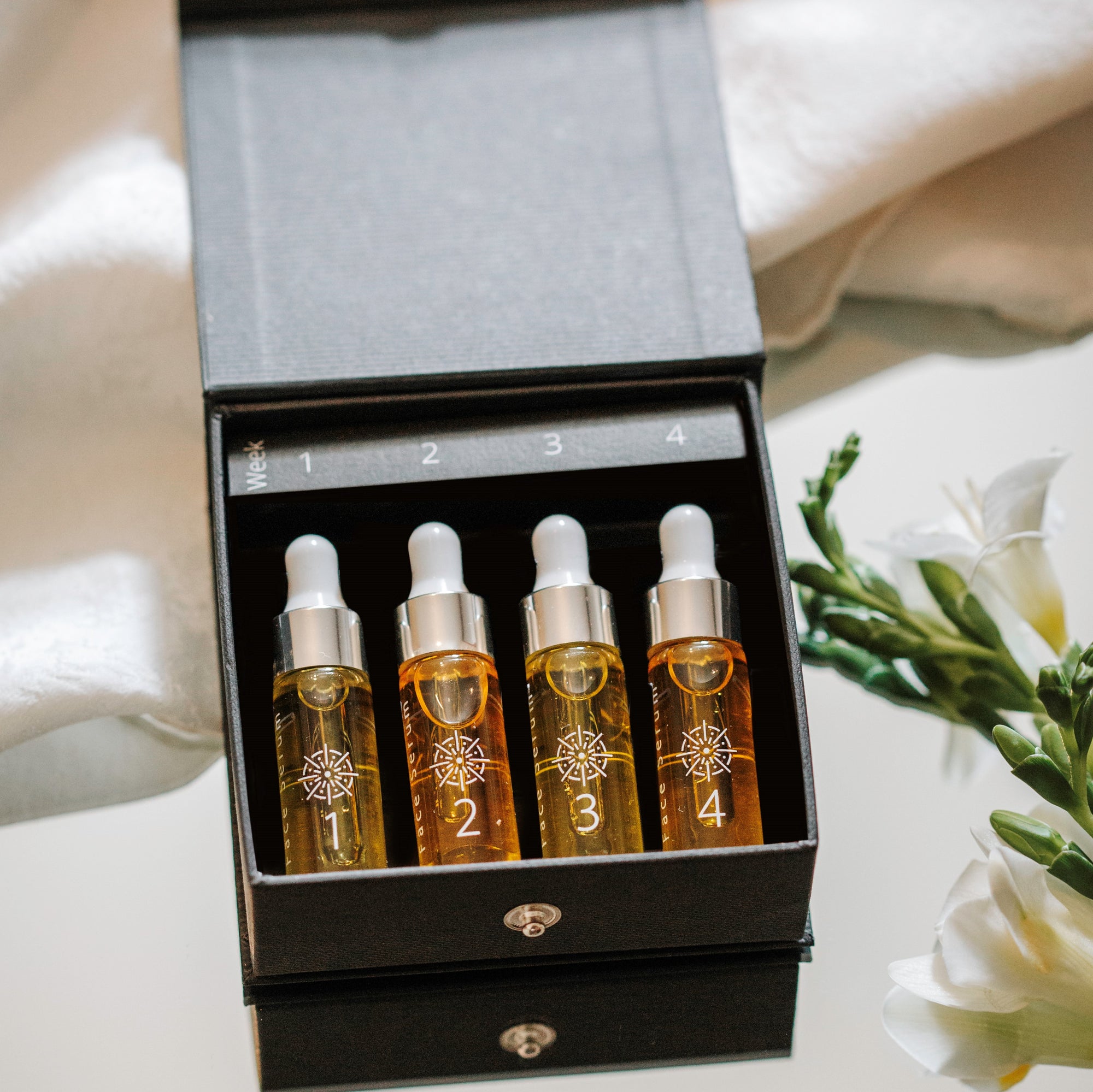 Introducing the much-anticipated Supreme Face Serum Treatment – 
Years in the making this truly special 'Gem' is finally here and we can't wait to share it with you all.
The 4-week serum treatment comprised of 4 vials of serum, has been formulated to support skin through moon cycles and seasonal transitions. This product is very exclusive and only ever made in batches of 50, no more than 4 times a year. Pre-order is recommended.
Traditional systems of healing like Chinese Medicine and Ayurveda stress that seasonal transitions are pivotal points during the year for individuals to tune in and adjust to the body's changing metabolism and needs. The Inlight's Supreme Face Serum will provide a lasting boost of vitality and radiance to body and soul after the treatment is complete.
"By re-tuning yourself with the rhythms of Nature you re-tune to your own inner beauty and manifest radiant youth." - says Dr Spiezia
Week 1 – Detox and re-set the skin
Week 2 –Replenish the skin with anti-oxidants
Week 3 –Nourish the skin with super phytonutrients
Week 4 – Imparts a lasting glow + radiance
A feast of rare skin-loving ingredients are included, such as:
Pomegranate with its impressive array of antioxidants, significant level of Vitamin C, flavonoids and rare source of Omega 5 fatty acid.    
Prickly pear acclaimed as the natural hyaluronic acid that keeps the skin's moisture balanced and help to iron out fine lines.
Baobab revered for restoring collagen and level skin oil production.
Sea buckthorn born to improve the regeneration rate of epidermal cells.
Apricot powerfully anti-oxidant known to fend off free radicals.
Black cumin host of a rich variety of skin-friendly superpowers and renowned to help the skin retain moisture.
Glycerine with its humectant properties to repair and regenerate skin cells.
You'll find gemstones nestled in each vial, individually lovingly cleansed and charged over the course of two months by Dr Spiezia himself to subtly restore and enhance your skin's own frequency. Each week has its own ritual and affirmation card.
We have included the gemstones both for their representation of the beginning of Life of Earth (the "memory" of beginning), their colours associated to different physical and emotional qualities, their energy and power. 
Once every drop of serum is finished, you can collect and cherish the exquisite gemstones whose effect is not diminished over time - a pure, powerful and unique keepsake just for you.
"Crystals have been used for thousands of years to encourage
wellness and beauty.
They are beautiful to look at and to hold, but for me they also interact with our body's energy field and reconnect to the original essence of creation bringing beauty to life."
Dr. Mariano Spiezia – formulator
Why the full moon:
Firstly: for optimal product experience and performance, the serum should be started the day after a full moon; there is an interconnectedness between a 28-day lunar cycle and the time it takes the body's skin cells to turn over.
Secondly:  changes in the Earth's magnetic field that occur during different lunar phases impact the body in often subtle and sometimes overt ways. Whilst using the Supreme Face Serum you will also interact with the product energetically through both the active ingredients and through the paired tiny gemstones that rest in the bottom of each bottle shining through the transparency of the glorious glycerine.
'I think I look fresher and younger and that doing this treatment is an act of love and appreciation towards Nature and myself.
I loved it. Especially making it a ritual with the affirmation cards.
I looked forward to each application and each new week. Delicate and precious packaging.'
---